Great Recipes

Savor a Sweet
Morning Snack
​Cherry Coffee Cake

Savor a Sweet Morning Snack
(Family Features)
Add some sweetness to your breakfast routine with this delicious and easy-to-make dessert.
​
Cherry Coffee Cake
Nonstick cooking spray
1 can (12.4 ounces) refrigerated cinnamon rolls with icing
1 1/2 cups (21-ounce can) cherry pie filling
1/2 cup slivered almonds or pecans (optional)
Heat oven to 375 F.
Spray 9-inch round cake pan with nonstick cooking spray.
Separate cinnamon roll dough into eight rolls; cut each roll into quarters.
Place dough rounded-side down in pan.
Spoon pie filling over rolls. Sprinkle almond slivers or pecans over cherry filling, if desired.
Bake 25-35 minutes, or until golden brown.
Invert onto plate or cutting board. Invert again onto serving plate.
Remove lid from icing. Microwave 3-10 seconds. Stir icing and drizzle over warm coffee cake.
Serve warm.
Find more breakfast recipes at
Culinary.net
.
Simple, Sweet Energy Bites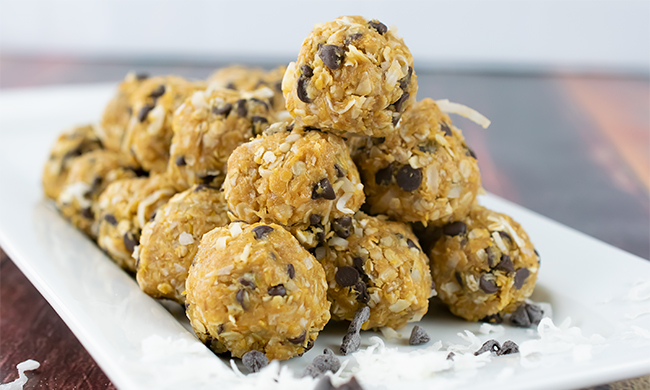 (Culinary.net) Having enough energy and fuel to make it through a long day can be challenging. No matter if you're a stay-at-home parent, corporate worker or small business owner, having a high energy level that lasts throughout the day is important for both you and those around you.
Having enough energy helps you stay alert and attentive to what is going on around you, whether that's cleaning up after your little ones or filing a report your boss asked for.
When it comes to snacking during the day, these delicious, mouth-watering Energy Bites can give you the boost you need. They are made with creamy peanut butter and honey to curb your sweet cravings but still provide plenty of texture with shredded coconut and raw oats.
They are a perfect snack time nosh, rolled into simple balls, that can help you finish the task at hand.
Not only can they be that 2 p.m. pick-me-up, they are also simple to make and simply delightful to eat. You can store them in the refrigerator in a container for anytime snacking. Plus, the recipe makes 20 servings, which means it's easy to prep your snacks for the entire week ahead of time.
Stop settling at snack time for stale crackers or high-calorie dips. Eating something that can make your body feel good and energize you for the rest of the day keeps you prepared for what's to come.
Find more snack recipes at Culinary.net.
If you made this recipe at home, use #MyCulinaryConnection on your favorite social network to share your work.
Watch video to see how to make this recipe!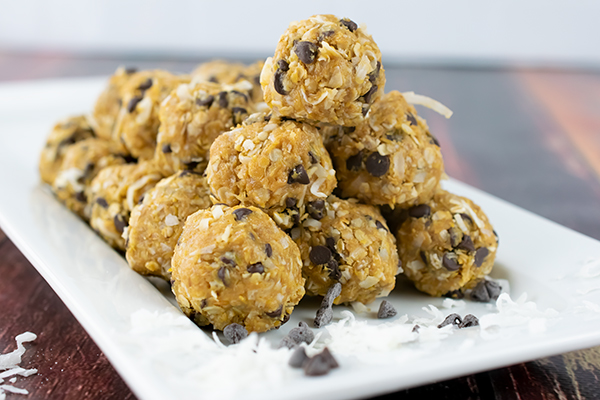 Energy Bites
Servings: 20
1/2 cup creamy peanut butter
1/3 cup honey
1 teaspoon vanilla extract
1 cup raw oats
1/2 cup sweetened shredded coconut
1/2 cup flaxseed meal
6 tablespoons mini chocolate chips
In medium mixing bowl, stir peanut butter, honey and vanilla extract until combined.
Add oats, coconut, flaxseed meal and chocolate chips. Mix until combined.
Shape into 1-inch balls. Store in airtight container in refrigerator until ready to serve.
SOURCE:
Culinary.net
| | |
| --- | --- |
| Find Fiesta Inspiration with Mini Tacos | |
Family Features) Liven up your mealtime routine with the fresh global flavors of an at-home fiesta for a memorable way to rethink your menu. With nearly countless ways to spice up the kitchen using inspiration from around the world, it's easy to find something new and exciting.
For example, these Sloppy Joe Mini Tacos from "The New York Times" bestselling cookbook author Stephanie Banyas offer a true flavor fusion. The lively blend of ground turkey or pork chorizo, cheeses, spices and veggies pop when combined with the high-quality ingredients of Fresh Cravings Salsa.
These boldly flavored salsas are made with vine-ripened tomatoes, crisp onions, zesty peppers and spices. Plus, they're never cooked or pasteurized, meaning you're enjoying a vibrant dip that's never soggy or dull. Available in a range of heat levels among restaurant style, chunky and pico de gallo, they complement any at-home fiesta.
"This is the ultimate mashup of two school lunch favorites: Sloppy Joes and Tacos," Banyas said. "It includes some serious attitude thanks to Fresh Cravings Salsa's hearty blend of diced tomatoes, onions, fragrant cilantro and Anaheim and Serrano chili peppers."
Visit
freshcravings.com
for more ways to spice up your at-home fiesta.
​
Sloppy Joe Mini Tacos
Recipe courtesy of Stephanie Banyas
Yield: 12-15 tacos
1
container (16 ounces) Fresh Cravings Restaurant Style Salsa (mild or medium)
3
tablespoons ketchup
2
tablespoons yellow, brown or Dijon mustard
2
teaspoons Worcestershire sauce
2
heaping tablespoons light brown sugar
2
tablespoons vegetable oil
8
ounces ground turkey or pork chorizo
8
ounces 90% lean ground chuck or turkey
salt, to taste
freshly ground black pepper, to taste
1/4
cup water
15
tortillas
1/4
cup finely chopped fresh cilantro leaves
1
cup crumbled cotija cheese
1
cup shredded Mexican blend cheese (optional)
1/2
red onion, thinly sliced, soaked in ice water 30 minutes and drained
Avocado Mash:
1
ripe Haas avocado, halved, pitted and removed from skin
2
tablespoons finely diced red onion
1/2
lime, juice only
salt, to taste
pepper, to taste
Preheat oven to 300 F.
In blender or food processor, process salsa until smooth. Remove 1/2 cup processed salsa and set aside for garnish.
In medium bowl, mix remaining salsa, ketchup, mustard, Worcestershire sauce and brown sugar until combined.
In large sauté pan over high heat, heat oil until it begins to shimmer. Add chorizo and ground meat; season with salt and pepper, to taste. Cook, breaking up meat with wooden spoon, until golden brown and just cooked through, about 8 minutes.
Add salsa mixture and water; bring to boil, reduce heat to medium and cook, stirring occasionally, until mixture thickens, about 10 minutes. Taste for seasoning.
Wrap tortillas tightly in foil and heat in oven 10 minutes. Remove and keep wrapped tightly until ready to serve.
To make avocado mash: In medium bowl, coarsely smash avocado halves with fork. Add onion and lime juice then season with salt and pepper, to taste, and gently mix to combine.
Place tortillas on flat surface, top each with meat mixture and garnish as desired with reserved salsa, avocado mash, cotija, Mexican cheese and sliced red onion. 
​Protein-Packed
Salad Recipe
---
Serve a Protein-Packed Salad
(Family Features) A salad can fill an empty stomach for nearly any purpose, from an al fresco snack to a family appetizer. When combined with protein like chicken, a salad can become a full, nutritious meal all on its own.
If you're looking for a way to take your salad from snack or side to a savory main course, consider this High-Protein Chicken, Onion and Quinoa Salad with its own handmade dressing. Ready in less than 30 minutes, it calls for a handful of everyday ingredients including sauteéd onions as a key ingredient for added flavor.
In fact, onions can be called nature's ninja because of their many "skills." Onions add abundant flavor to a wide variety of foods with just 45 calories per serving as a source of dietary fiber, vitamin C, vitamin B6, potassium and other key nutrients such as folate, calcium and iron. They are also rich in heart-healthy nutrients and have been shown to help prevent some cancers.
High-Protein Chicken, Onion and Quinoa Salad

Recipe courtesy of the National Onion Association
Prep time: 10 minutes
Cook time: 15 minutes
Servings: 6
Dressing:
1/4 cup apple cider vinegar
2 tablespoons olive oil
1 tablespoon lemon juice
1 teaspoon honey
1 teaspoon Dijon mustard
1 1/2 cups red quinoa, rinsed
2 1/2 cups vegetable broth
1 teaspoon canola oil
1 white onion, sliced
3 cups baby kale
1 red skinned apple, chopped
2 cups cooked chicken, chopped
1/2 teaspoon salt
1/4 teaspoon pepper
To make dressing: In bowl, whisk vinegar, olive oil, lemon juice, honey and Dijon mustard until well combined. Set aside.
In saucepan, bring quinoa and broth to boil. Simmer, covered, 12-15 minutes, or until broth has been absorbed. Cool completely.
In medium skillet, heat canola oil over medium-high heat. Sauté onion 3-5 minutes, or until softened and translucent. Remove from heat; cool completely.
In large bowl, toss onion, kale, apple, chicken, salt and pepper with dressing. Stir in cooled quinoa.
Nutritional information per serving: 407 calories, 36.5 g protein, 11.6 g fat, 39 g carbohydrates, 297 mg sodium, 4.2 g fiber.
Visit
onions-usa.org
for more recipe ideas.
---
---
Ways to Make Hearty Meals at Home with Pantry Staples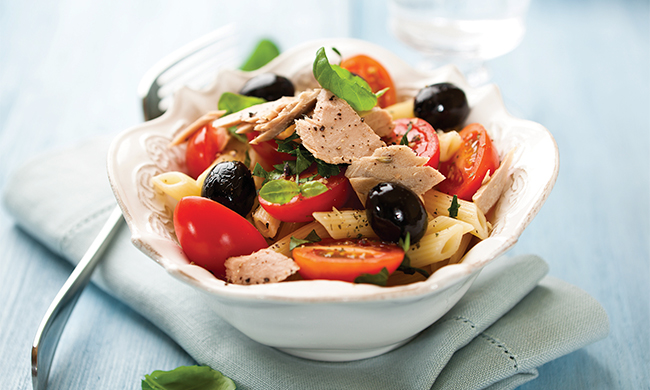 (Family Features) Stocking up on pantry essentials is a productive practice, especially as people across the country spend more time at home. However, having all those ingredients on-hand doesn't do as much good if you aren't sure how to use them or feel as if you're constantly whipping up the same dishes.
For example, canned protein is a popular pantry item as it cuts down on prep time and holds a long shelf life while adding important nutrients to family meals. Canned seafood, in particular, is a versatile choice that can be used in a variety of easy recipes or simply eaten on its own.
An option like Chicken of the Sea Chunk Light Tuna in Water, which is 99% fat free and a good source of protein and heart-healthy omega-3s, makes for an easy and versatile addition to dishes like pasta. A 5-ounce can contains 24 grams of high-quality protein, making it a nourishing source of energy while helping to easily satisfy hunger.
Try adding some modern flair to the table with this Mediterranean Tuna Pasta, perfect for a family of four and ready in just 20 minutes. Virtually any canned seafood can be used from salmon to tuna in place of more traditional proteins used in this pasta and many other dishes.
If your family prefers to stick to tradition, Mom's Favorite Tuna Noodle Casserole provides a warm, hearty meal with a hint of nostalgia while gathering loved ones around the dinner table.
Ingredients in these recipes can be easily substituted for similar options you may already have on hand, such as another dried pasta in place of penne or carrots in lieu of peas.
Find more filling family recipes at chickenofthesea.com.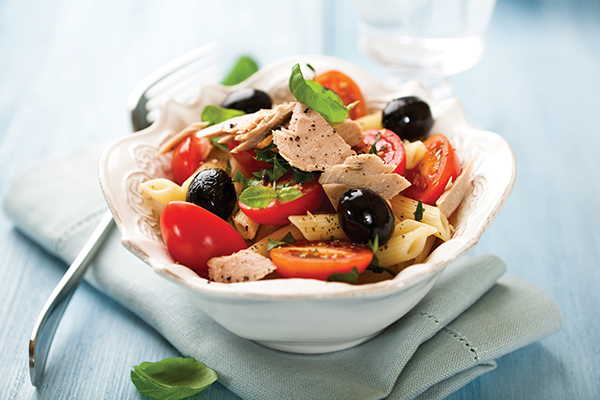 Mediterranean Tuna Pasta
Total time: 20 minutes
Servings: 4
1 package (16 ounces) penne pasta
1 can (15 ounces) chickpeas, drained
1 can (14 1/2 ounces) diced tomatoes with basil, garlic and oregano
1 medium zucchini, sliced 1/4-inch thick
2 tablespoons sliced ripe olives
1 can (5 ounces) Chicken of the Sea Chunk Light Tuna in Water, drained
1/2 cup Parmesan cheese
Cook pasta according to package directions.
In large skillet, bring chickpeas, tomatoes, zucchini, olives and tuna to boil; stir constantly.
Reduce heat and simmer, uncovered, 5 minutes.
Spoon mixture over cooked pasta. Top with Parmesan cheese.
Substitution: Use any canned seafood such as salmon in place of canned tuna.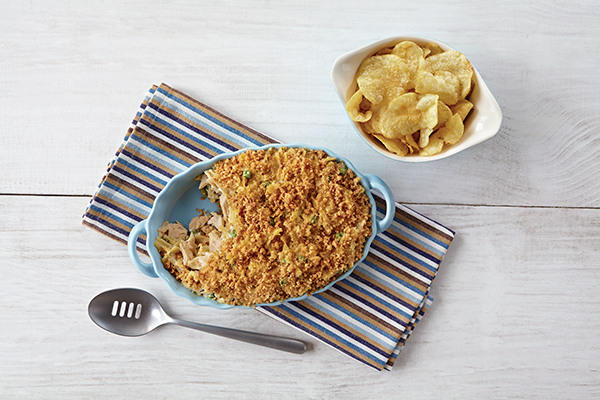 Mom's Favorite Tuna Noodle Casserole
Total time: 40 minutes
Servings: 6-7
2 cans (10 3/4 ounces each) cream of mushroom soup
1 cup milk
2 cups frozen peas
2 cans (12 ounces each) Chicken of the Sea Chunk Light Tuna in Water, drained
4 cups medium egg noodles, cooked
4 tablespoons dry breadcrumbs
2 tablespoons butter, melted
Heat oven to 400° F.
In bowl, stir soup and milk until smooth.
In 3-quart casserole dish, combine peas, tuna and noodles with soup mixture.
Bake 30 minutes, or until warm and bubbling; remove from oven and stir.
In bowl, mix breadcrumbs with melted butter; sprinkle over tuna mixture.
Bake 5 minutes, or until golden brown.
Substitution: Use any frozen vegetable in place of frozen peas.

Photo courtesy of Getty Images (Mediterranean Tuna Pasta)
SOURCE:
Chicken of the Sea
A Time-Saving Taco Dinner

(Family Features) Make dinner a cinch with these Slow Cooker Tacos. Seasoned with chili powder and ground cumin then slow-cooked for four hours with picante sauce, the meat can be shredded and served alongside your family's favorite toppings for a stress-free meal.

Find more meal ideas at Culinary.net.

Watch video to see how to make this delicious recipe!

Pace Slow Cooked Shredded Chicken Tacos

1 1/2 pounds skinless, boneless chicken breast halves
1 teaspoon chili powder
2 teaspoons ground cumin
1 16-ounce jar Pace® Chunky Salsa or Pace® Picante Sauce-Medium
12 6-inch flour tortillas, warmed

Season chicken with chili powder and cumin. Place chicken into 6-quart slow cooker. Pour salsa over chicken.
Cover and cook on HIGH for 4 hours or until chicken is fork-tender. Remove chicken to work surface. Using 2 forks, shred chicken. Serve chicken in tortillas. Top with favorite toppings.

Recipe courtesy of Campbell's Kitchen.

SOURCE:Culinary.net